Nonprofit Strategic Plan –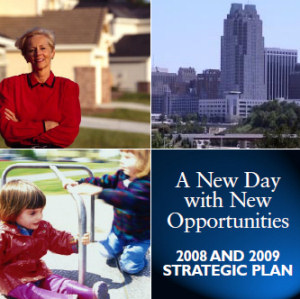 The Triangle Community Coalition is a powerful group made up of citizens and organizations who choose to take an active role in the well being of their community.  Their leaders and membership have a history of actively implementing the distilled collective wisdom and diverse views expressed in their planning sessions.

Nonprofit Annual Report –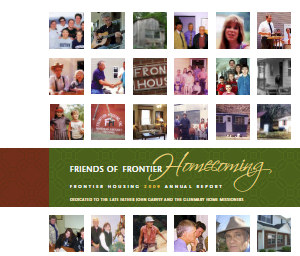 "Friends of Frontier Homecoming", Frontier Housing's 2009 Annual Report, celebrates their 35th Anniversary by honoring their founders and everyone who has pitched in for decades. The Balance Group [TBG] designed an innovative online and in-print delivery system to save paper, print and mailing costs. An 8 ½ by 11 inch bi-fold was printed to provide a rich pictorial history while the bulk of the content was delivered online. As an entertaining method to explain 35 years of organizational growth in capacity and sophistication, an online timeline was developed to tell Frontier's story. Everyone's favorites were the stories, WHAT WAS IT LIKE TO GROW UP IN A FRONTIER HOME? How is the Frontier connection passed from one generation to the next? written by adults whose lives were changed by Frontier homes.

Nonprofit Annual Report –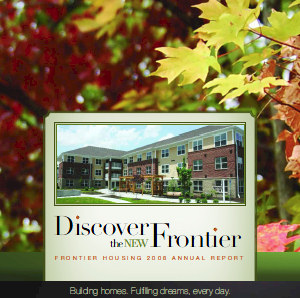 With their 2008 Annual Report, "Discover the New Frontier", Frontier Housing asked that we: Commit with Us – Collaborate with Us – Celebrate with Us – Continue with Us. With photos and testimonials we discover why individuals and organizations invest in Frontier. This beautiful, simple document explains why NeighborWorks® America gave Frontier an Exemplary Rating.


Nonprofit Annual Report –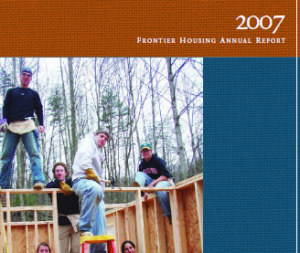 Frontier Housing has a treasure trove of photographs showing the process of building homes, empowering families, and making worthy use of the energy of volunteers.  At the heart of this annual report are "Key Moments", homeowners at their front door receiving their key.

Nonprofit Annual Report –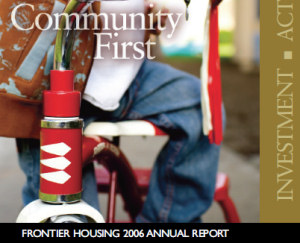 In 2006 Frontier Housing wanted to express their commitment to their community. The Balance Group suggested they let others in the area who understood Frontier's value "blow their horn". Community Voices, a series of testimonials and photos from local leaders, created a powerful reminder of Frontier's impact.

Membership Drive Tri-fold –

The Triangle Community Coalition has high-powered, sophisticated board members who aren't likely to carry around bulky brochures to attract potential members. The Balance Group designed a business card-sized tri-fold that slips in your pocket yet packs enough punch to draw the reader to the TCC website.


Trade Association Brochures –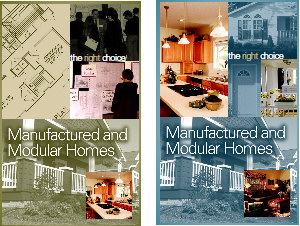 The Kentucky Manufactured Housing Institute wanted a pair of brochures for their two main audiences; local government officials and home buying consumers. The Balance Group honed their message, assembled the images, and worked with our graphic designer to create these valuable tools.