Online Training Presence –
Your Online Education Resource for Affordable Housing Topics
We believe that timely education on affordable housing topics can empower you to achieve your desired results. We believe in results made easy!
Our focus is making good use of factory-built homes. We know that factory-built homes offer natural advantages to developers for both for-profit and nonprofit use.
We invite you to join our online community and take part in our self-study classes, live webinars and archived webinars.
Our materials are developed by experienced professionals working and training in these fields.

Hybrid Social Enterprise Website – Next Step®
The Balance Group served as consultants for the four year start up and scaling of an innovative social enterprise, Next Step®.
Their mission is putting sustainable homeownership within reach of everyone, while transforming the manufactured housing industry one home at a time.


National Affordable Housing Network Toolkits and Training – Next Step

The Balance Group served as consultants for the four year start up and scaling of an innovative social enterprise, Next Step®.
Developed Toolkits and training for both in house staff and national network of affordable housing providers.
Worked with field staff to create technical support documentation and procedures for factory-built housing done right.
Created training curriculum for factory-built housing construction planning and management.

Nonprofit Organization Website –

Frontier Housing, an affordable housing nonprofit in Eastern Kentucky, builds and develops single and multi-family housing. Frontier, an Exemplary Organization in the NeighborWorks® Network, has become the largest residential builder in their service area and the largest nonprofit builder in Kentucky.
The Balance Group took over design and maintenance of their site when their prior webmaster vacillated between ignoring their updates and holding their site hostage. We have not only given the site a pretty face, we have reorganized the navigation and evolved the content to serve their homebuyers, their funders, their donors and their staff. Who knew affordable housing could be so cool?


Nonprofit Organization Website –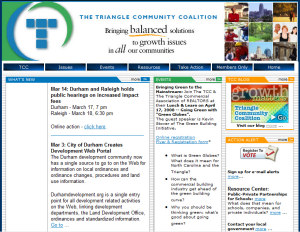 The Triangle Community Coalition is a 501(c) 4 nonprofit, non-partisan organization whose mission is to promote public policy. They exist to communicate. Teaming with The Balance Group allowed them to create and maintain a powerful communication network despite the fact that they have only two staff members. This organization's members include CEOs, executive directors of member organizations and the general public.  Their membership demands insider information early enough to be pro-active and responsive.


Issues Advocacy Website –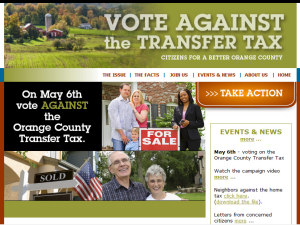 The political process now takes place online. People go to the web to find out what's going on. Advocacy websites provide a portal for information and action. The Balance Group transforms the client's message into an online forum. One of our offerings allows the client to update the content themselves at anytime of the day or night.


Professional Trade Association Website –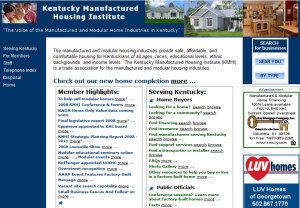 The Kentucky Manufactured Housing Institute web presence has evolved from a simple site addressing their basic membership functions to a site visited by more than 60,000 visitors last year.
The KMHI now welcomes –
Their members
Government officials who regulate their industry
Factory-built homebuyers
Searches from customers
Potential members

GrowthMatters Blog –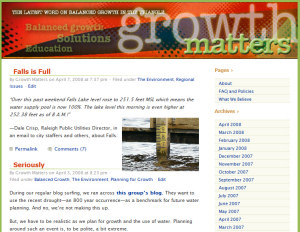 "Chris, You Google search number 1 in the nation on growth matters. No, excuse me… in the world. Congratulations!
Your visits/page views numbers continue to skyrocket.
A thousand people a day want to see what the TCC and their executive director have to say on growth issues, even during this downturn. "