Both recognize the need for high functioning, effective work without the commitment and overhead of hiring full time employees.
We are a small company. You know exactly who you are talking to when you call or email The Balance Group
. We are comfortable supporting your in-house skills or working with your virtual team members.
CAPACITY BUILDING
We personally understand professional trade associations and volunteer organizations. In our personal lives, The Balance Group staff have committed to everything for organizations; from simple membership, to chairing task forces and committees, to invitations as guest speaker, to Board President. We understand the interplay between members, staff, the board and officers. We have had the weighty responsibility for the energy of volunteers and stewardship of other people's money. The Balance Group translates this into practical, credible capacity building for small organizations.
SUBJECT MATTER EXPERTISE
In the areas of land use planning, local government, factory-built housing and real estate development, we provide professional expertise to communicate the benefits of your project. For others, we take our clients' content and enable them to deliver it beautifully and purposefully online, in print, and in front of a conference room full of people.
We would be pleased to address your needs.
The Balance Group has provided these organizations with capacity building, subject matter expertise and continuing website design and maintenance.
Frontier Housing
Triangle Community Coalition
Next Step® Network
Kentucky Manufactured Housing Institute
Factory-Built Housing State Associations
In challenging times, swift changes are required to generate an upswing for the factory-built housing industry.
Inform local government officials of the new manufactured housing trends
Increase grassroots political action and quick communication with members
Reduce postage, staff and phone time
Support your membership's transition to new markets
Educate your members on new ways of doing business
Retain members and attract new members
WEBSITES AND ONLINE COMMUNICATION

VIRTUAL & PAPERLESS OPERATIONS

remote coworkers collaborate seamlessly

STRATEGIC AND ACTION PLANNING

from membership surveys to a published document

TRAINING AND PRESENTATIONS

cost effective and reusable
The document is amazing!! What a Great job you all have done!
Tom Carew, Frontier Housing

Your website can have multiple functions.
The home page needs clear portals directing your many audiences to the specific information they want. The site can serve as the "library" for full information while social media attracts and informs the community you serve, potential donors, and partners. Together social media and your website can communicate the value of your work to the greater community.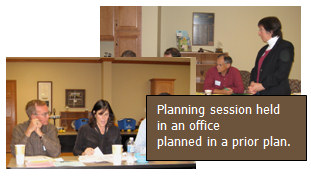 Thanks for being a lifesaver when it comes to putting stuff together…
Betty Whittaker, Assistant Executive Director,Kentucky Manufactured Housing Institute